CELEBRITY CUSTOMERS Include:
DALE WEISE NHL Pro Hockey Player bought his ENGAGEMENT ring from me !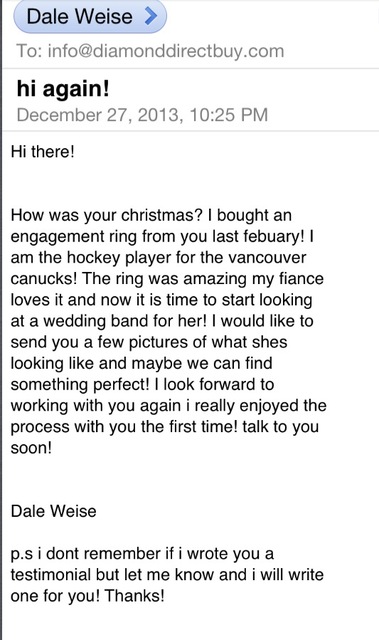 I am Proud to announce that DAN and LAURA Dotson
from the TV show STORAGE WARS on A&E Just became my customers Purchasing a
Gorgeous Cushion cut ring ring form me on ebay ( true bargain hunters)

I got

This

message after the ring was delivered " Anna ...Ring JUST GOT HERE .... SHE LOVES IT thnx it was a real pleasure doing business

with you

- Dan"
BELOW ARE REAL TESTIMONIALS PROVIDED BY CLIENTS OF DIAMOND DIRECT BUY OVER THE YEARS.

_____________________________________________________________


Nate W. and Fiancee in Canada

Elizabeth and Benjamin - Chicago
with Bradely Peterson - FBI Agent Chicago
"Anna Ashley LOVES her ring, Thank you for helping me make the best choice" - Chris
If you are on the fence about using Anna to help you find the perfect engagement ring, DON'T BE! My boyfriend and I traveled all the way to Chicago to meet with Anna, and it was worth it. The quality of her jewelry blew us away. We had been to many jewelers but not many of them actually carried the size diamond that we were looking for, so we were unable to see anything in person. Anna, on the other hand, had multiple diamonds and setting for me to see/inspect and I made my choice on the spot. We left Chicago engaged thanks to Anna. I was even able to get my ring appraised before I purchased, and it appraised for much more than what we paid. So not only did I get the ring of my dreams and one-on-one VIP treatment from Anna, but I got an amazing deal. We will be using Anna for our wedding bands and any other big jewelry purchases in the future. Anna I will never forget you. Thanks again xoxo
Linda Y -Canada
Director of Channel
- North America.
My ring was purchased through Anna and she did an incredible job bringing my vision to life. The finished product looks outstanding and beyond what I had envisioned. Anna is amazing to work with and completely patient, thorough and honest. I will use her again and absolutely recommend her to anyone I know.
ELENI K - AUSTRALIA
My fiancé and I could not speak more highly of you Anna. We are both so pleased with all the jewellery we have had made by you and we keep passing your website on to friends and family. We also look forward to the next time we use you!

We are both from Australia and had been recommended to you by a friend. We could not thank them enough for passing us on to you, as we had been searching for the perfect jeweller to make our wedding bands and engagement rings. We both did our research and had a pretty good idea of what we wanted and started getting quotes from local jewellers and jewellers from bigger cities around Australia. All the quotes we received were roughly around two - three times the amount we were quoted by Anna.

Not only was the product amazing, quality wise and price, but Anna really gave us a lot of time, patience, and helpful tips and designs during our time working with her. She responded to emails straight away, sent us pictures and videos of the products, and made us feel very safe buying from her online using escrow. I will continue to use Anna, and continue to pass on her details to all my family and friends, and I am more then happy to speak with anyone who is from Australia, or buying from any other country who has any questions. You can't go wrong! Keep up the great work Anna, your products are of true quality and value, and thank you for looking after us so well! Xoxo
Preschool Teacher, Assistant to Director of Admissions, and Alumni Coordinator
Our ring shopping started in Jewelers Row. Seemed like everyone we talked to told us to go downtown. However, we did not have a good feeling about our purchase, and the sales associate seemed to give up on finding the perfect diamond within our budget. Allen and I felt like we were settling. This is when I started researching different options online. About six months ago I called Anna frantically. She insured me that we would be taken care of, and she would do everything in her power to find the ring of my dreams. I have nothing but positive things to say about Anna. She helped us find the most beautiful ring that signified our love and commitment to one another. Anna went out of her way and worked day and night to make sure we were happy. We couldn't be more pleased with our purchase. I will be referring all of my family and friends in Chicago and back home in Ohio to Anna! We will be picking out our wedding bands soon, and we can't wait to work with her again. We feel truly blessed that we found Anna who was so trustworthy, reliable, and understanding to work with us during this important moment in our lives. I cannot thank her enough for everything she has done.
Katie and Allen W.
Hematology/Oncology FellowThank you so much for the beautiful 3.25 carat engagement ring. It is just exquisite. Anna was very responsive to my questions and provided videos, appraisal information and even custom designed a matching wedding band for my ring. The diamond appraised for many, many thousands more than I paid. As a busy physician, it was also helpful that everything was coordinated around my schedule. I highly recommend her to anyone looking for a beautiful, unique piece of jewelry.
At first I was a skeptical at making such an important and personal purchase online from someone I had never met or had dealings with.
I would say to any prospective buyer "Relax" Anna was simply wonderful to work with in every respect.
She got me a very impressive stone at a great price!
Thanks Anna
ANDREW D
CPA CHICAGO
I have purchased a ring from Anna twice, which speaks to how highly I think of her. She is great to work with and very well priced, I would recommend her to anyone looking for a diamond.
MAKE UP BY SHEILA in TEXAS
" SHE LOVES THE RING THANK YOU ANNA"
"Anna THANK YOU FOR A AMAZING EXPERIENCE BYING A RING FROM YOU , YOU MADE IT EASY AND FUN 5 STARS "-Jon

I was skeptic doing such a transaction online with such a great distance between my residence and Chicago. I am not buying a $40 t-shirt here. Anna is a pro and put my skepticism at ease. She is professional, patient and quick to provide great service without being pushy. I recommend going to her if and when you are in the market.
After researching all that I could find about Anna and her business online I finally reached out on a Saturday night through her website. Her prompt response that evening and communication throughout the transaction made me feel comfortable moving forward with the purchase. I was nervous about making a big purchase from an online source, but at the end of the day Anna was.....
Anna is an exceptional choice for diamond engagement rings. Her expertise and professional skills assist the shopper with ease and comfort. Anna has an ability to connect with the buyer in a personal manner and volunteers help for making the most difficult choices when picking out the perfect gem or precious metal. My experience was a pleasure and I will be a returning
Anna was the best jeweler to work with in the entire city of Chicago! Before we met her, my fiancee and I went to a few different store fronts - all who would have to order a diamond before you even get to see the one you would actually purchase. All the stores seemed to have similar supplies, were overpriced, and so much less unique than the diamonds & settings Anna had to offer. She helped to answer any question we had around purchasing a quality diamond. I also had a bad fall and slightly hurt the setting of my ring - but Anna referred me to a great local jeweler who fixed my ring within a day! This is quality service you are not going to find elsewhere. Thank you for everything, Anna, I'm so in love with my ring and can't wait to wear it with my wedding band in just 30 days!! :)
TANYA
I can't begin to say how thrilled I am with the diamond wedding ring my fiancé picked out for me! I gave him a slight idea and Anna blew it out of the water! My ring is a show stopper and I say that because there is a not a week that goes by that I am not stopped by people to comment on how beautiful my ring is and that all goods to the designer the one we trusted, Anna! I feel so comfortable calling her up if I have a questions how to clean my ring or to talk about wedding bands etc and she is always willing to make time for he customers. She partners with a fabulous jewelry store in Northbrook that is always happy to accommodate Anna's clients and clean the jewelry for free in which they do a fantastic job. We plan to continue referring friends and family to her because there is no other service and diamond expert other than Anna! Thank you Anna for my beautiful one of a kind wedding ring I love it!
Working with Anna last summer was great! My now husband and I came across her company and within a week he had the perfect ring. She was very easy to work with, very accommodating, friendly and helpful. I believe he received a great deal on the ring and we both could not be happier. I would highly recommend her to anyone and have recommended her to my friends and family