DIAMOND EDUCATION AND INFORMATION
DIAMOND COLOR CHART EXAMPLES
FUN FACT : COLOR FACE UP IS NOT AS OBVIOUS AS LOOSE UP SIDE DOWN UN A WHITE TRAY UNDER SPECIAL LIGHTS SO YOU DONT NEED TO SPEND THOUSANDS MORE ON A D E F when a G H I is Just as Gorgeous saving you THOUSANDS .
D: Absolutely colorless. The highest color grade, which is extremely rare.
E: Colorless. An expert gemologist can detect only slight traces of color. A rare diamond.
F: Colorless. Slight color detected by an expert gemologist, but still considered a "colorless" grade. A high-quality diamond.
G-H: Near- colorless. Color noticeable when compared to diamonds of better grades, but these grades offer excellent value. MOST SOLD
I-J: Near- colorless. Color slightly detectable. An excellent value.
K-M: SELECTED ONES OFFER THE BIGGEST BANG FOR YOUR BUCK on larger diamonds especially with fluorescence which can Upgrade color visually
N-Z: Not carried.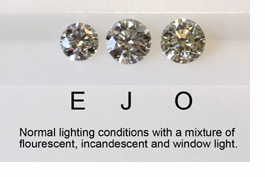 Face up in a mounting you can not tell color apart as easily. Choosing a NEAR colorless range G H I J K range WILL get you a much BIGGER diamond for a lot less and still Look AMAZING. Most ladies would prefer one with a near colorless diamond and A BIGGER CARAT SIZE then a tiny D color Flawless. Diamond. Size you can see right away however, No one ever asks you " what color and clarity did you get?" HOWEVER they will ask you " HOW BIG IS YOUR DIAMOND ?"

OR THIS REACTION
Please remember Grading is done with a diamond Loose face down compared side by side to other diamonds , once you flip it FACE UP that difference virtually disappears
For further Diamond education please visit HOW TO BUY A DIAMOND
http://howtobuyadiamond.gia.edu/Tour_FrameSet.htm
<iframe width="853" height="480" src="https://www.youtube.com/embed/Yr9wMd-GhLQ" frameborder="0" allowfullscreen></iframe>
There are Many Labs that certify Diamonds EGL- and GIA are the most known there is also AGS, IGI, HRD ETC
There are MANY LABS
The certificate outlines the details and characteristics of the stone, however it is not the only thing you should rely on to make a decision if the the diamond is spectacular or not
Years ago people would buy un-certified diamonds and go by the grade the jeweler they were purchasing form told it was..... My advise look at the diamond NOT the piece of paper only.
I offer GIA, EGL-USA and EGL HK , IGI , AGS and ANY other certification or No certification my customer requests. All options with prices and certificates to compare, you will select a diamond you wish to buy.

Few of the world popular organization provides gem diamond certification, which ultimately increase buyers confidence and security. However, GIA is the most popular institute followed by HRD, AGS, EGL IGI. Diamond certificate provides all the important details of diamond including 4cs of diamond, hence it's important to ask certificate will buying stone.

GIA – Gemological Institute of America
HRD – Hoge Raad voor Diamond (Belgium)
AGS – American Gem Society
EGL – European Gemological Laboratory- Hong Kong Lab only
EGL-USA Labs in LA and NY USA
IGI – International Gemological Institute
I and most Jewelers will openly admit and it is common knowledge out there for years that GIA diamonds are graded on stricter scale than EGL diamonds and most other certificates. Therefore if you purchase a diamond with a EGL certificate from me or anywhere else for that matter, MY price is based on the total finished piece (the cost of the diamond from My supplier and the setting of your choice which the price reflects with mutual agreement and understanding that you accept the center "as is" based on the Certification it comes with at point of sale)

BUY IT- SEE IT -AND MAKE YOUR OWN DECISION
what is a Hearts and Arrows cut ?
VIDEO What is 'Hearts and Arrows' and how does it compare to Excellent Cut?
VIDEO :How to buy the biggest round diamond engagement ring for your budget